Vera Wang Princess Perfumes
Vera Wang has recently released her new women's perfume, Princess. There are five scents in the collection. They are Vera Wang Rock Princess, Vera Wang Flower Princess, Vera Wang Princess, Vera Wang Glam Princess, and the newest perfume in the collection, Vera Wang Preppy Princess. All of the perfumes have a unique, and beautiful scent.
Vera Wang Preppy Princess
Preppy Princess is for a stylish, pretty, and of course, preppy girl! If you are fun and friendly, this luscious scent is perfect for you! It has hints of woody, fruity scents that blend succulent red berries, honeysuckle and sensual woods in an eclectic and edgy style. The Preppy Princess Perfume is great so, go out and buy it!
Vera Wang Glam Princess
Glam Princess is definitely a fun and "happily ever after" type of scent. It is fabulous for a kind, fashionable, trendy, girly and of course, glam girl! It is fruity and floral with crushed red currant, guava juice, pear, blood orange, vanilla orchid, ambrette seed, marshmallow and, cashmere wood. It's great, so get it!
Vera Wang Princess
Magical, mystical, feminine women should have this perfume! Princess is a perfect scent for an edgy yet glamorous women. This scent has a mixture of notes of water lily, apple, mandarin meringue, and golden apricot skin; dark chocolate, amber, musk, and vanilla. It is a great perfume!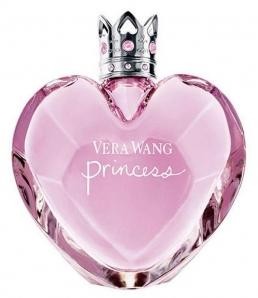 Vera Wang Flower Princess
The Flower Princess Perfume is perfect for sweet but are still vibrant, luminous and flirtatious! Flower Princess is a very floral scent. The perfume consists of green ivy, orange blossom, Moroccan rose, and jasmine for that pretty, uplifting touch, while peach peel, amber and precious woods give a glamorous touch, so you can enjoy the scent for hours on end!
Vera Wang Rock Princess
This perfume is for women who rock! With hints of peach, raspberry, bergamot, heliotrope, rose, jasmine, lily heart and cashmere wood, musk, iris and coconut, this perfume is for a confidant, trendy, fun and edgy women with a rocker princess inside their heart!